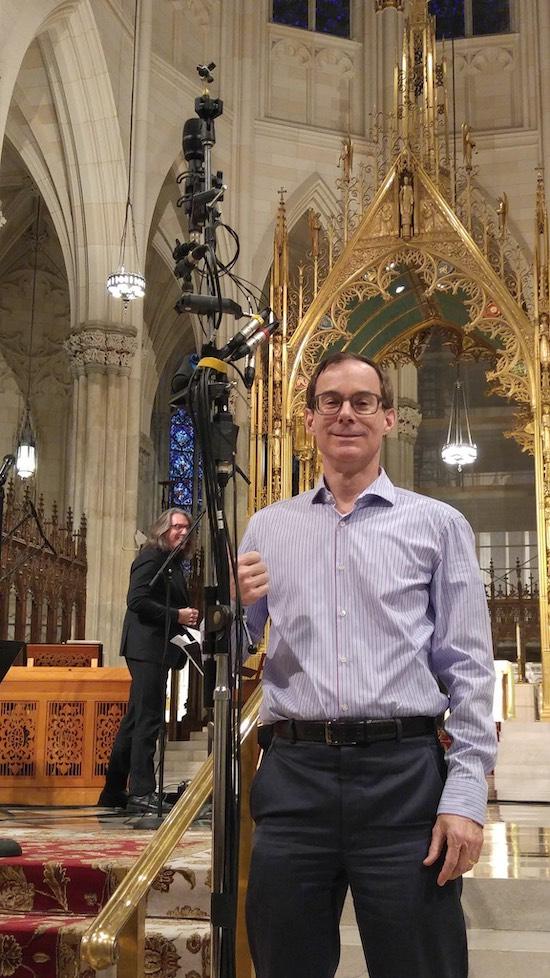 David v.R Bowles formed Swineshead Productions, LLC as a classical recording production company in 1995. His recordings have been GRAMMY- and JUNO-nominated and twice won the Just Plain Folks Awards "Classical Orchestral Album". All releases are available as high-resolution paid downloads; some in surround and 3D audio formats as well. Bowles- engineered audio has also appeared on TELLY-winning videos, as well as on videos for Cabrillo Festival of Contemporary Music, Voces8 "Live from London", Chanticleer, San Francisco Early Music Society and Stanford Live.
In collaboration with New York University's Music Technology program at Steinhardt School of Music, Mr. Bowles researches and teaches 3D audio recording for their Tonmeister Seminar. He has sat on panels at several AES conventions (with colleagues from NYU, Dolby, Huddersfield University and Sennheiser), and presented his papers on 3D height microphone arrays at AES conferences in São Paulo, San Francisco and Boston.
As an educator, Mr. Bowles has been a guest lecturer for Tonmeister programs at New York University (Steinhardt Music Technologies), the Royal Danish Academy of Music, and Peabody Recording Arts and Sciences (John Hopkins University). He was Visiting Professor of Recording Arts at Indiana University's Jacobs School of Music.
Mr. Bowles has been elected by his peers as Vice President, Western Region, USA/Canada of the AES (Audio Engineering Society) for 2023-24. He has also served twice on the Board of Governors, has been on several convention committees, and presently serves on the San Francisco AES section committee. He is a voting member of NARAS (National Academy of Recording Arts & Sciences) and active in their Producers & Engineers Wing.
Mr. Bowles apprenticed with legendary engineers Tony Faulkner, John Eargle, and John Newton. He then trained at the Aspen Music Festival and School's Edgar Stanton Audio Recording Institute. Before becoming an audio engineer, he performed and recorded as a cellist with Philharmonia Baroque Orchestra and other ensembles. He graduated from The Juilliard School (with B. Mus and M. Mus degrees) and earned a Certificate in early music performance from the Royal Conservatory (The Hague, Netherlands).